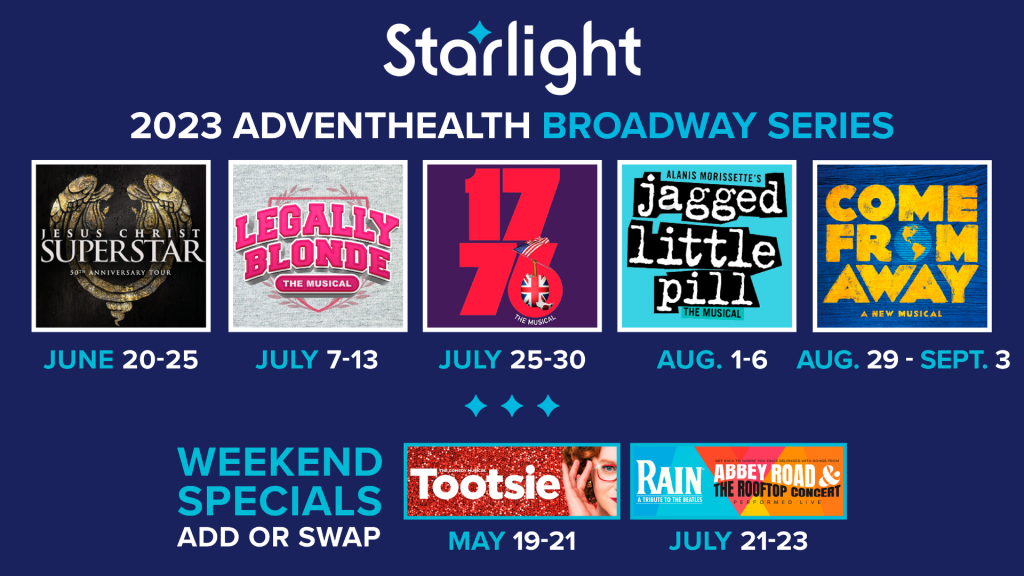 The 2023 AdventHealth Broadway Series takes audiences on a journey through pivotal moments in history.
Season ticket holders get the best seats, prices, and enjoy exclusive benefits and discounts on dining and concessions. Tickets to the 5-show season start at just $66! That's 5-hit Broadway shows for less than $14 a show!
GET YOUR SEASON TICKETS AT KCSTARLIGHT.COM
2023 AdventHealth Broadway Series
Jesus Christ Superstar
This production of the iconic rock opera celebrates 50 years of Andrew Lloyd Webber and Tim Rice's iconic music with reimagined, modern choreography.
Legally Blonde
This is Starlight's self-produced show this season. It's directed by Nikki Snelson, who played Brooke Wyndham in the original Broadway production of the show. Legally Blonde is sponsored by AARP.
1776
This brand-new, critically-acclaimed show is straight-from-Broadway and making its Kansas City debut at Starlight. The members of this diverse cast all identify as female, non-binary, or transgender – none of whom would have been allowed in the "room where it happened" when the Declaration of Independence was originally signed – and turns American History on its head.
Jagged Little Pill
Another musical making its Kansas City debut! Set to the iconic music of Alanis Morissette's multi-Grammy winning 1996 album of the same name, the show was written by Diablo Cody – who earned a Tony Award for Best Book of a Musical for her work on the show.
Come From Away
Making its Starlight debut, Come From Away tells the true story of a small town in Newfoundland that opened its doors to more than 7,000 stranded airplane passengers on September 11, 2001. It's an on-stage celebration of the best of humankind.
We also have two incredibly fun weekend specials coming this summer – Tootsie and RAIN – A Tribute to the Beatles – and season ticket holders have the option to add these shows on to their season package or swap out of one season show and into a weekend special.