GO GREEN: Top Classic Rock Songs about one of the most influential products in Rock History.
Written by Sly Fox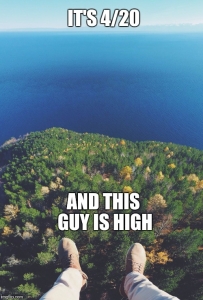 It's 4/20 and in the immortal words of our very own Chuck Nasty that can only mean one thing "Get out your party hat, grab your bat and let's hit it big boy!"
In the realm of Classic Rock there is a specific green thing that a lot of the artists from the 60's and beyond turn to for inspiration… and that is Marijuana.
Here is OUR TOP 10 + 1.1 Stoner Tonkin Midnight Smokin Music to Bake by 4/20 Songs of ALL TIME
11. One Toke Over the Line – Brewer & Shipley (Of course we will give the first spot to our local hometown heroes and FOX 1st Birthday party headliner)
10. You don't know how it feels – Tom Petty
9. Smokin – Boston
8. Joker – Steve Miller
7. Light my Fire – Doors
6. Purple Haze – Jimi Hendrix
5. I am the Walrus – Beatles
4. Comfortably Numb – Pink Floyd
3. Stoned – The Rolling Stones (the band's first original composition)
2. Sweet Leaf – Black Sabbath
1. Rainy Day Women #12 & 35 – Bob Dylan (Everybody must get Stoned! Even the Beatles apparently Bob Dylan introduced the Beatles to Pot during their first meeting.
.1
And if you go all the way UP TO 11 and want to go a little HIGHER the TOP SPOT by just a small roach clip OUR POINT 1 SPOT goes to…. Bong roll please!
Hornoable mentions: Every Bob Marley song, Of Course Cheech and Chong, and Dazed and Confused – Led Zeppelin thanks to the movie with the same name.
https://youtu.be/H7mCEK2tx7s